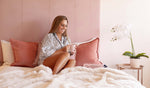 Our sustainable packaging – and 12 ways to live more waste free
If you've been hanging out with us for a while, you'll know that we are passionate about the beautiful earth and ways to live more sustainably. We're all for slow fashion, cruelty free (yes for satin, no for silk) and anti-waste. That means recycled or reusable packaging – always! 
For example, all our gowns and dresses are packaged in compostable garment bags – which of course can be reused. Our pillowcases, masks etc. are presented in cute zip-lock bags made from recycled water bottles – super popular with our shoppers as it's easy to repurpose as make-up or jewellery bags. Finally, our delivery bags are also 100% compostable – no more plastic bags littering up our streets and landfills.
This month, we chatted to the lovely anti-waste crusader Kara Levy. Every day, through her job at a recycling company and the tips she shares on @tread_lighter, she helps others make better choices for the environment. One of them, of course, is being savvier about the packaging that come with our food and fashion. Here she shares some of the latest trends and insights.
Packaging that's fit for purpose
"At the end of the day, packaging needs to be fit for purpose. For example, with food, it needs to stop food from being damaged in transit, must be easy to transport and help extend the shelf life of products. We should be careful about just mindlessly swopping out one thing for another without truly understanding waste management systems in your area. 
Plastic is often seen as the 'devil' but there are many alternatives which are actually more resource intensive e.g., using cotton bags versus plastic ones which are easily recyclable. For manufacturers, the end of a product's life shouldn't start with recycling but with design. It is important for various guidelines to be followed in order for them to be recycled at the end of their useful life. We also want brands to reduce the amount of materials used." 
The beauty of reusable packaging
"Reusable packaging is a good option, but they don't make people change their habits overnight. Take the reusable shopping bags at groceries stores like Woolworths. People are simply buying more reusable bags as there isn't a big enough incentive for them to bring these bags back to store. It will be interesting to see what will change consumer behaviour for good. For things like swimwear, underwear and jewellery, it's a good idea to package them in beautifully designed packaging that people want to reuse.
Paper versus plastic bags is another interesting debate. Often the life cycle of a paper bag is much longer than that of plastic, so it's not necessarily the better option. 
Did you know that plastic takes up one-seventh of the space in a landfill than paper bags do; releases 94% less pollution during manufacturing than paper bags and 70% less air pollution during manufacturing than paper bags? It takes seven trucks to deliver the same amount of paper bags as one truck of plastic bags – generating more petrol usage, more highway traffic, and more air pollution."
Compostable and biodegradable materials
"Biodegradable materials are great… but in South Africa we don't have widespread facilities to collect these materials. As for compostable materials, only a handful of consumers actually do composting at home. In order for something to actually biodegrade or compost, the packaging has to be exposed to very specific heat, micro-organisms, moisture etc. which is usually only found in an industrial composting plant. 
This type of packaging also needs to have stringent testing and be verified by proper testing authorities e.g. TUV. If a retailer uses this packaging, it's important to put clear instructions on how to responsibly dispose of it. Until we have wide scale collections in SA."
According to Green Home and ecopack, the best end-of-life scenario for compostable packaging is always composting. They will likely remain fairly inert in a landfill, which isn't great… However, compostables are still the better solution, even if they don't get composted (yet) because it's made from renewable plants instead of polluting fossil fuels and are much less damaging than plastic if they end up in the environment.
What should you look for in packaging?
Stay away from pouches e.g. multi-layer pouches like 'refillable' dishwashing liquid. Either refill at a refill store or buy the bottle which is actually recyclable. Pouches are made from mixed together plastic, aluminium and other materials which are challenging to separate. Some countries have the technology but not South Africa. Here are a few more types of packaging to steer clear of where you can:
Tetrapak: there is only one plant in the country which can recycle this, so stay away from Tetrapak where you can.

 

Chip packets, sweets and chocolate wrappers are not recyclable. They are too light and chip packets are also multi-layer, making them difficult to recycle.
PET is polyethylene terepthalate while rPET is the recycled version of this. Like with all packaging, it needs to be designed to be recycled.

 

Choose light blue and clear bottles; avoid opaque, metallic or brightly coloured PET.

 

Don't buy bottles that have ink printed directly onto the PET as it contaminates the PET in the recycling process.

 

Avoid bottles with shrink sleeves or cut them off before putting them into recycling.

 

Avoid bottles with metal caps and closures as the machinery picks it up as a contaminant and the whole bottle won't get recycled.
Here are some tips on how we can use less packaging in our daily lives:
Say "no" to bags: Always take reusable tote bags and produce bags with you on your shopping trip. PS: Our 'Everything Bag' is perfect for this! Get it now at 25% off with promo code: WASTEFREE. 
Sip from your own cup: Invest in a quality, reusable coffee cup and smoothie jar and take it everywhere you go. PET smoothie jars and iced coffee cups are not currently collected for recycling and coffee cups are very tricky to recycle.

 

Avoid single-use items: From straws and forks to individually wrapped muffins, think about all that plastic you only use for two seconds, which then ends up in a landfill. Remember: if plastic is contaminated with food, it probably doesn't get recycled.

 

Out with the cling wrap and foil: In with lunchboxes, beeswax or fabric wraps or roasting food in a glass dish. Hold on to the aluminium trays you get with takeaways – you can cook things in here again or recycle them.

 

Leave packaging behind in store for them to recycle.
Be a savvy online shopper: Order in bulk to reduce your carbon footprint. Remember: online shopping means more packaging and more vehicles on the road.

 

Watch unboxing videos: Pay attention to how brands wrap their products and what they do to reduce waste.
Make your voice heard! Ask questions and make suggestions - e.g. too much bubble wrap, contact brands to question packaging if you don't think it's good enough.

 

Reuse what you can: If you do get something in plastic, reuse it – for example Dear Deer's nifty zip-lock make-up bags.
Look for longevity: With fashion and homeware, look for products that last long, wash well and dry quickly to save energy.
Shop local: Products that don't travel so far have a lower carbon footprint. This includes the materials used, so pay attention to a company's supply chain too.

 

Beauty and homeware: Look for refillable and recyclable products.

 
If you want to learn more about recycling, visit Plastic SA or read PETCO's FAQs of 2021. You can also consider a 7-day swap challenge, like this one from Conscious Life & Style. For more recycling tips, be sure to follow Kara on @tread_lighter.
From eye and face masks to pillow cases, you can shop our collection with a clean conscience because every item is packaged in reusable or recyclable packaging.  
*Currently composting is best practice when it comes to compostable packaging in South Africa. Disposing thereof if you know it will end up at an industrial composting facility is also first prize, and is realistic in countries such as the UK.