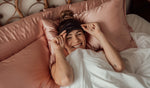 Satin pillowcases: The secret behind your beauty sleep
Did you know that satin pillowcases not only look gorgeous but have a long list of benefits for skin and hair too? Don't take our word for it (or 120+ list of gushing reviews) – hear what a doctor, skin therapist and hair stylist have to say about getting your beauty sleep on satin.
But first, what is satin?
Satin is actually not a fabric but a method of weaving, and can consist of various fibres like polyester or rayon. A satin weave produces a characteristically glossy and smooth material surface which aids in the movement of your face and hair while sleeping. With less friction comes less damage to your hair and the sensitive outer epidermis of your skin.
Satin tops cotton because cotton is weaved in a basket weave. If you were to magnify the surface of cotton it would basically look like the surface of a woven grass basket. Can you imagine sleeping on a basket surface all night long? In the case of Dear Deer, our satin cases are made from polyester which, unlike the water-wicking properties of cotton, doesn't absorb moisture. As we all know, one of the many reasons our skin looks dry and tired, and our hair frizzy and lifeless dry, is because of a lack of hydration.
BENEFITS FOR SKIN
Lucent Skin and Beauty
, skin therapist Sarah Daly, and Dr Alex Cornell, expert in facial aesthetic procedures, to find out why they recommend sleeping on satin. "Satin absorbs less moisture from your skin and hair, compared to cotton," explains Sarah. "This helps to keep your skin hydrated, and your active night creams where they need to be. Satin is a soft, gentle fabric which reduces skin irritation and extra facial lines after a night's sleep."
Dr Alex likes to recommend satin pillowcases after in-salon treatments such as skin peels (especially the deeper ones) and micro-needling. "Sleeping on satin provides a comfortable and soothing material for your skin in the few days of downtime that you may have. If you're having medical procedures such as plasma skin tightening, a satin pillow slip reduces any rubbing on the skin, allowing your skin to take its natural course of healing afterwards."
There you have it – satin is a must for post-treatment care. In fact, many plastic surgeons recommend it after cosmetic surgery, while cancer patients undergoing chemo and radiotherapy can also benefit due to their skin becoming very sensitive.
Let's break down all the benefits of satin for your skin:
Retains moisture
Satin doesn't sap moisture from your skin like cotton does, so if you have dry skin it will be easier to maintain skin hydration. What's more, if you spend hundreds of rands on expensive facial serums, you don't want it to be used by your pillowcase instead of your skin!
Fewer skin creases
The slippery surface means skin can easily glide as you move in the night, which means less skin stretching and pulling that eventually show up as permanent sleep wrinkles.
Acne-friendly
Satin allows pores to breathe in the night plus less friction also cause less irritated skin. What's more, because cotton is so absorbent, it means that bacteria hang around for longer – which could be a breeding ground for acne-causing germs.
Gentle on lashes
Many gals have made lash extensions a permanent fixture. If you want to protect your investment, so to speak, sleeping on satin makes sense. There is less friction on your face so less chance of rubbing off your real or artificial lashes.
Less puffiness
Because satin pillowcases are hypoallergenic, you're less likely to suffer from the puffiness from dust and mite allergies. 
BENEFITS FOR HAIR
Bianca, the founder of Ash vs Gold Hair Studio in Cape Town, is another big fan of Dear Deer satin pillowcases. As a stylist specialising in correcting damaged hair and enhancing natural colour, she regularly recommends them to her clients. "Cotton absorbs moisture while satin retains it. The naturally occurring oils in hair are therefore maintained – rather than soaked up," she explains. "This leaves hair nourished and satin smooth." Here are a few more reasons why hair loves satin – and not only pillowcases but these sassy scrunchies too!
Helps prevent frizz
Whether you have very thick, curly or flyaway hair, you'll find that satin makes hair much easier to tame. It's because of hair gliding over the smooth surface, with less rubbing and less friction.
Fewer tangles
Listen up if you have very fine hair or a child with an impossible bedhead in the mornings! When there is less friction and pulling on hair, and less movement in general, hair is less likely to end up in a tangle. Imagine not having to fight with tangles every day!
Stronger hair with less breakage
Hair becomes more brittle over time so tends to break easily. If you often use heat treatments like straightening, your hair will end up damaged and weakened. Satin helps to cut down on friction. If you like to blowdry your hair before going to bed, you'll find that satin is much kinder to your hair and will help your blowdry last longer.
Keeps your favourite style looking good for longer
Loving that fresh-from-the-salon look? When you sleep on satin, it will last that much longer than a cotton pillowcase. The reason? The slicker the surface, the less chance of hair getting muddled up.
Finally, satin also has benefits for your bedroom! It looks so luxurious teamed with other textures like cotton, flannel and velvet, and it lasts and lasts for years. It won't get harder with washing like some fabrics. Just be careful that it doesn't get nicked on jewellery or nails.
Soon, you'll be travelling everywhere with your satin pillow – read more great reviews here and buy yours now.